On Dec. 14, 2012, I was sitting in my fifth-grade science class when my school went under lockdown. When I came home, my parents told my older brother, James, and me to follow them upstairs.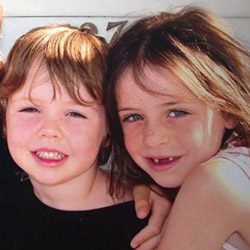 I silently cried as I climbed the stairs. I had heard about what happened at Sandy Hook Elementary that day, and after seeing the look on my parents' faces, I knew what was coming. I still remember screaming as they told us that our little brother, Daniel, had been murdered in his first-grade classroom.
After that day, I never wanted to think about gun violence again. I didn't want to be constantly reminded about Daniel's death.
Five years later, as I saw more and more families shattered by gun violence, I made the difficult decision to start speaking out and joined a gun violence prevention club at school. When Parkland happened, at first I didn't even want to think about it. But I forced myself to get even more involved, caring less about the pain it would cause me. I felt like if I didn't, then more people were going to die.
Now, Congress is about to vote this week on a critical bill that would require background checks on almost all gun sales – but we still haven't secured enough support to get it passed. I'm helping Sandy Hook Promise lead an all-out push to pass this life-saving bill, but we need to raise $57,960 more by midnight tomorrow to ramp up our efforts. So please, can I count on you to give right now to help protect children like my little brother, Daniel, from gun violence?
Please rush $10, or as much as you can, right now to help Sandy Hook Promise push for universal background checks to protect children from school shootings. We cannot allow our leaders to sit back as kids are slaughtered on a daily basis.
I used to leave the fight for gun violence prevention to my dad, Mark. But I want to honor my brother, my community, and everyone who's been killed by gun violence by taking action myself. I know what losing a loved one to gun violence feels like, and I want to prevent other people's lives from being shattered in that same way.
Every time I have to do an interview or talk to someone about this, I still feel so physically drained afterward from the emotional toll it takes on me. But standing together with my peers and people like you who care so much about preventing gun violence, I can see how strong we are.
Thank you for your support today – together, we won't back down. Together, I know we'll build a safer world for all kids.
Natalie Barden (Daniel's sister)