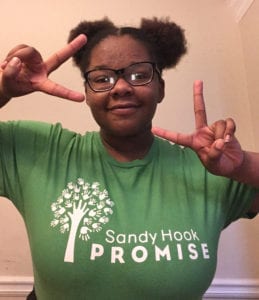 Arriana, a high school junior in Covington, Georgia, is serving her second year as a member of the National Youth Advisory Board and has taken an active role in using her voice to spread the organization's message. She also served as the vice president of her local SAVE Promise Club for the past four years.
Besides writing essays about the experiences students face today, Arriana testified among a panel of prestigious experts before U.S. Congressional members about the mental health of today's youth and the need for more supportive services.
"Sandy Hook Promise has allowed me to have a voice and a hand in changing my society. I am empowered and encouraged to evoke change and help others. I just put myself out there and share the truth about this topic, so that people can understand."
In addition to working with a Club at her own school, Arriana visits other high schools to train students in Sandy Hook Promise's programs, including Start With Hello, and also works with younger children through community organizations to help spread the message. She was honored last year with the "Georgia Young Authors and Speakers Award" and is also a member of Jared's Heart of Success, a youth mentoring and leadership development organization.
Read more about Arriana:
SAVE Promise Club creates lasting change that leads to safer schools and communities. Learn more and start your own chapter!