Hanadie Tulemat, our featured guest blogger, is a high school student at Amos Alonzo Stagg High School in Illinois and a member of the Sandy Hook Promise National Youth Advisory Board.
The Stagg High School SAVE Promise Club helps embed the Sandy Hook Promise messages into our school culture. Our SAVE Promise Club realized how difficult it is to come into a new school and fit in, so that's when Start With Hello Week came into play. We love the impact Start With Hello has on the students, teachers, and community.
Since being introduced to Start With Hello I was a fan! Coming from a school where not many students transfer high schools as I did, I knew how hard it was to open up and make new friends. Thankfully the Stagg High School community, including the staff and the students, made that transition much easier on me and I want to pay some of that forward to our newest Chargers. The easiest way to do this is to promote the three easy steps of Start With Hello: See Someone Alone; Reach Out and Help; Start With Hello!
These three steps not only make school more welcoming because they allow students to start a simple conversation that can turn into something much more, but they also prevent violence. People who do violent acts feel alone and don't have someone to turn to, but with these three simple steps, they will start a conversation that can get really deep to the point where they have just found a lifetime friendship with someone they truly connect with and trust.
Youth-Led Back to School Activities You Can Try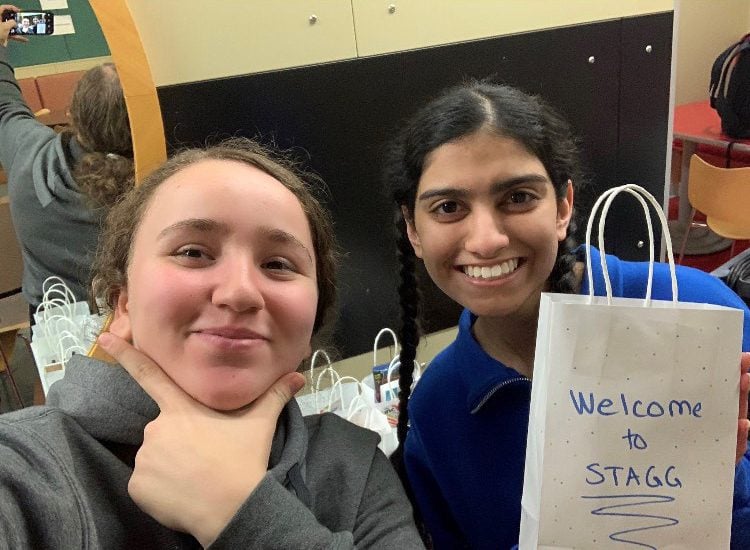 Here are some of the Start With Hello activities my club will run this year to build excitement and start the year off with a positive vibe:
Post flyers all over the school mentioning that it is Start With Hello Week and the first steps students can take to take part in the amazing opportunity!
Create a video and send it to all the teachers and students via email to explain the meaning of Start With Hello Week, why it is important and what you can do to show your support. 
Inform both teachers and students via email and announcements that they should wear green to show support for the Sandy Hook Promise mission. It is an easy way of getting everyone together no matter what because all they have to do is WEAR GREEN!!
Create goodie bags for new students coming from different schools, distributed at school, or shipped to homes. 
Distribute conversation igniters!  During a free period, ask students to write their name, a way of connecting to them, and fun facts about themselves on a piece of paper. SAVE Promise Club student members collect the sheets of paper and hand them out randomly to a new student in the class to give them an easy way of starting a conversation.
Send students a poster via email or on paper at school saying "I _______ will Start With Hello by _______." Students can turn this in for teachers to print out and put on a wall or for extra credit points!
Create a Kahoot game that is sent out to all the students with questions on how they feel about their school's COVID-19 safety choices and the new year.
A Warm Welcome
Start With Hello ties nicely together with welcome back to school activities.  For example, Stagg High School gives team t-shirts and lawn signs to incoming freshman and new students to show school pride and a sense of belonging to the school community!
What is amazing about these ideas is that they can take place if school is virtual. Another idea is putting motivational and positive quotes all over the school. Giving students a warm welcoming back is important to my club because we know that it makes students feel as they are missed, wanted and that school is more than just doing your work and leaving. It is to build relationships to last a lifetime and having someone to trust and talk to. A warm welcoming reminds students of this. Join me for Start With Hello Week!