Ending school shootings requires the dedication of running a marathon. There are sprints of progress, such as the STANDUP Act and Safe Schools Week. But a lasting culture change for violence prevention takes time and dedication. And our guest blogger, elite runner Sloan Alexander, has been with us every step of the way. Here he shares the story of his path to help protect our kids.
It was only a few days after the Sandy Hook tragedy when my three-year-old daughter leaned in close: "Daddy, I'm scared someone is going to shoot me," she said. That's when I knew I needed to do something.
That moment has always stuck with me. I start to tear up when I think about it.
I've felt a profound connection to Sandy Hook Promise, and have been working to support the organization ever since. Besides holding a charity concert to raise money for the organization, I've also participated in the New York City Marathon.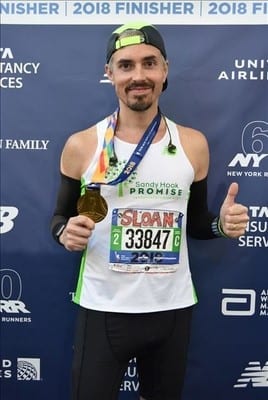 26 Miles Have So Much Meaning
At each of the 26 miles of the race, I thought about the victims from Sandy Hook. I hit a wall towards the end of the first marathon and I was in a lot of pain. But I thought about the pain these families must have felt and it carried me through the last four miles. Running is a unique sport that can transform a tragedy into something positive. Releasing your emotional pain through running is cathartic for the soul.
Running the NYC Marathon in 2018 for Sandy Hook Promise was such an amazing experience.  After it was over, I wanted to continue giving back. So I ran the NYC Marathon again with the SHP team again in 2019. Then 2020 and COVID-19 came along and our lives turned upside-down. The NYC Marathon was cancelled, but I knew I still had to do something to keep my promise to protect children. That's why I decided to run my own marathon.
COVID-19 Can't Stop the Sandy Hook Promise Spirit
On October 25, I'll be running and livestreaming a 26.2 mile Marathon! The run will begin and end at the New Canaan High School. Starting at 11:00am EST, the run will go through New Canaan, Darien and West Norwalk. You can join me on the route or follow me on Strava, too!
I encourage those who want to participate to cheer along the course route. And, you can run along with me for any distance as well. We'll be running an easy pace. We will follow all COVID-19 safety guidelines. See you on the course!
How You Can Help 
Watch the livestream on Sloan's Facebook Event! And if you're in the area, stop by the trail to put some pep in his step! COVID-19 safety practices required. 
Sandy Hook Promise
Give generously to Sandy Hook Promise through Sloan's fundraiser to help end school shootings and create a culture of violence prevention.
Support Dylan's Wings of Change to help counter the epidemic of social isolation and exclusion in honor of Dylan Hockley.