Students and educators found creative ways to keep their classmates and communities connected during Say Something Week, despite ongoing challenges of social distancing and virtual learning.
And staying connected is more important than ever.
Some studies show that seven in ten students are suffering mental health challenges. Suicide rates are increasing at alarming rates. Guns have become the leading cause of death for teenagers and young adults. That's why Say Something Week, which reinforces the signs of potential violence and to tell a trusted adult, is crucial.
Whether attending school virtually or in-person, students proved just how ingenious they are in reaching out to spread the Say Something message beyond the school walls.
Students Using Their Voice
Some students also decided to share their own experiences, including this heartfelt video from an Ohio student who talks about her own struggles with mental health. Friends and family who know the warning signs and have supported her during difficult times "have made a huge difference," she said.
And Arriana Gross, a member of the National Youth Advisory Board who also addressed Congress about the need for more mental health support for students, created a spoken word performance.
Reaching Out
Educators from Palos South Middle School were interviewed on their local radio station. They talked about their Say Something Week activities in an effort to bring the message to more people in the community. With the help of local officials, the school also tied green ribbons on telephone poles in town.
And the Four Giving Hearts community organization in South Carolina encouraged residents to submit photographs of themselves holding a sign that they can be a Trusted Adults. The organization later posted the various photos on their social media accounts. 
Several local law enforcement agencies also get involved. The Suffolk County Sheriff's Office sponsored an essay contest for the event. One of the lucky winners will be selected as the Sheriff's Ambassador for the Day.
The students at Stagg High School in Illinois coordinated with two other area high schools to create a community-wide effort. The local fire department also got involved, reminding everyone to "Say Something," while the police department made sure students knew they were "trusted adults."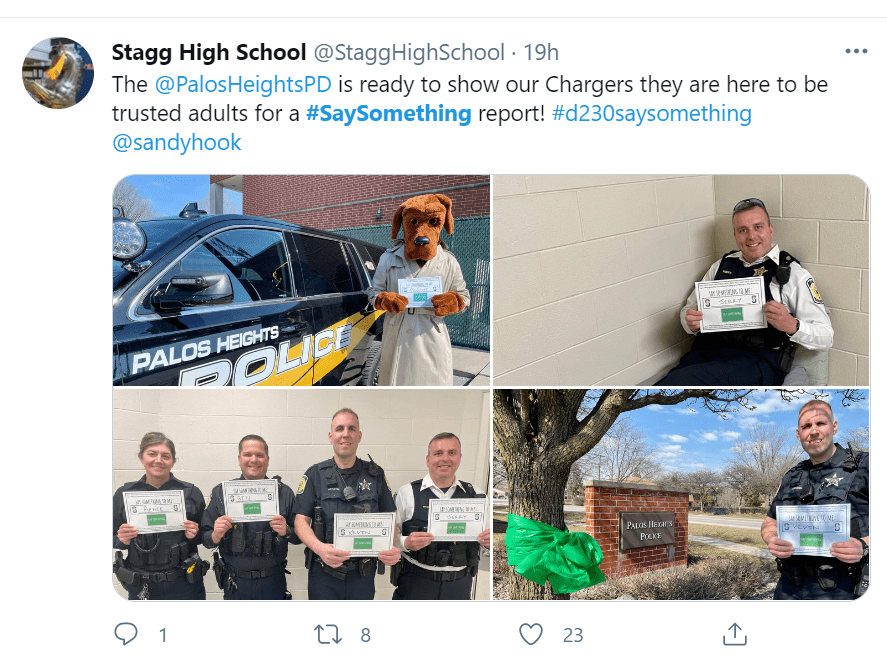 More Highlights
Below are just a few of the many great ways that educators and students celebrated Say Something Week. Follow #SaySomethingWeek on social media to join the conversation. Schools nationwide continue to celebrate the week through the end of March.