Black, Indigenous and People of Color (BIPOC) communities are disproportionately impacted by gun violence and mass shootings. Our work to end school shootings and youth violence cannot succeed if we do not make real, effective reforms at all levels of government to end systemic racial injustice.
Sandy Hook Promise is grieving with the families of the innocent lives taken in the horrific tragedy at Robb Elementary School. Nineteen children and two teachers will never come home from school. We know firsthand the unspeakable pain and darkness that descended on Uvalde. Robb Elementary School is located in a largely Hispanic/Latinx community. Analysis of recent CDC data underscores the disproportionate impact of gun violence on Black, Indigenous and people of color communities nationwide. Knowing the signs could have saved lives.
On Saturday, May 14, 2022, an 18-year-old white supremacist wearing body armor and armed with an assault rifle murdered 10 and wounded three while live-streaming his mass shooting spree inside and outside of a Buffalo, New York supermarket. 11 of the people shot were Black. The attack was driven by the shooter's publicly stated racist, anti-immigrant, and antisemitic beliefs. Read our full statement.
BIPOC communities face higher risk of becoming victims of gun violence. Following, here are ten facts and statistics about how gun violence disproportionately impacts communities of color.
Facts About Mass Shooting and Hate Crimes
1. Nine members of an African American church were killed in the Charleston Church Massacre. As a result, the shooter was eventually convicted of hate crimes and murder.1
2. Racial hatred again Hispanic people contributed to one of the deadliest mass shootings this century in El Paso, Texas.2 In this case, an active shooter murdered 22 innocent people at a shopping center.
3. Hate crimes against Asian Americans and Pacific Islanders, sparked by the COVID-19 pandemic, have risen significantly, increasing by 76% from 2019 to 2020 and another 339% from 2020 to 2021.3 This alarming trend contributed to one of the most horrific mass shootings in recent memory, when 6 Asian women were slain.
Stats About Minority Victims of Violence and Gun Deaths
4. Young Black males (15–34) account for 38% of gun deaths, even though they represent only 2% of the total population in the U.S.4
5. Black children and teens had the highest gun death rate in 2019 (11.9 per 100,000). Markedly followed by American Indian / Alaska Native children and teens (6.4 per 100,000).5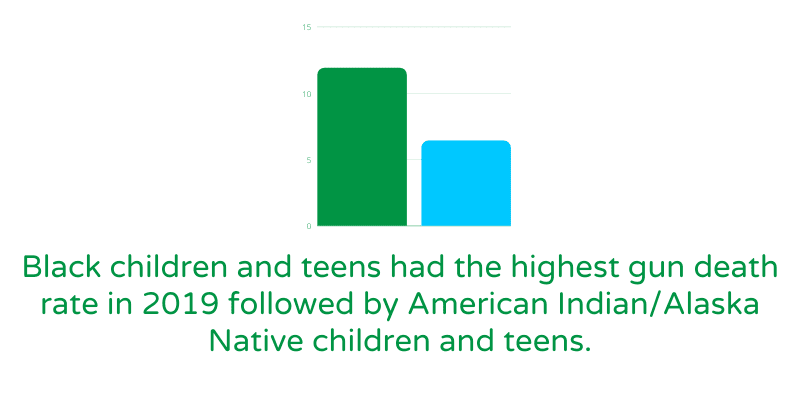 6. Every year, more than 4,100 Latinx or Hispanic people die due to gun violence.6
7. Children of color are far more likely to experience campus gun violence. It's more than twice as much for Hispanic students and over three times as much for Black students.7
8. Black youth were four times more likely to be killed with guns than their white peers.5
9. Young black males were 18 times more likely to be killed in gun homicides than young white males.5
10. Hispanic and Indigenous people are more than twice as likely to die by gun violence than white people.8
11. Violent crimes by white people against other white people occur at similar rates to violent crimes by Black people against other Black people.9
How You Can Help
Community Organizing
Join us to help create the nation we aspire to pass down to our children. Above all, you can help foster a society we have yet to see but know is possible.
Spread the Word
Share our downloadable infographic to raise awareness of key facts. Also, you can print them out and put them up anywhere you would put a poster.
Sources of Facts and Statistics About Gun Violence and Black, Indigenous and People of Color