In the wake of horrific gun violence tragedies this summer including Buffalo, Uvalde, and Highland Park, countless activists and Sandy Hook Promise supporters stepped up to send a powerful message:
Enough.
Along with your continued fight to protect children, a red carpet's worth of impassioned celebrities partnered with social talent leader Cameo and Sandy Hook Promise to lend their voices to the mission of creating safer schools and communities.
Thank You For Your Voices
NSYNC legend Lance Bass, comedienne Anjelah Johnson, and Melissa Joan Hart shared their impactful voices in messages of hope, advocacy, and urgency. SNL alum Casey Wilson, star of the Apple-TV hit, "The Shrink Next Door," shared a powerful video urging people to learn the warning signs of violence.
The entire cast of "Chicago Fire" held a poignant and heartfelt fundraiser for the greater Chicagoland community, including Highland Park, not long after the devastating Fourth of July parade shooting. They raised over $12,000 for Sandy Hook Promise and reached thousands of their fans on social media.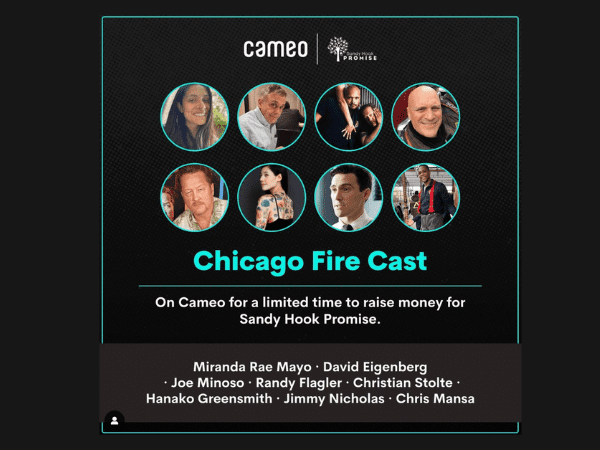 Long-time Sandy Hook Promise supporter and award-winning actor Cara Buono joined in the campaign. Acclaimed for her work in "Stranger Things," "Mad Men," and "The Sopranos," Cara has supported Sandy Hook Promise in partnership with her husband, Peter Thum. Their company, Liberty United, makes stunning jewelry from reclaimed weapons — with a portion of the proceeds supporting gun violence prevention groups like Sandy Hook Promise.
We continued to be grateful for all voices that lend their time, energy, and commitment to the fight to end gun violence and make our world safer for children. Together, we can work to end gun violence in our communities by raising each other's messages with support.
Get Active on Social Media Too!
Follow Sandy Hook Promise on social media, where a whole host of influencers, celebrities, and devoted citizens are joining the gun violence prevention conversation. Help them make an impact!