Our hearts are broken as our nation faces yet another mass school shooting. Three students and three adults were killed during a shooting at Covenant School1. The small, private Christian school in Nashville serves preschoolers, kindergartners, and elementary school students.
This tragedy is the latest in the growing number of school shootings and increasing gun violence in the United States. More than 400 children have died due to gun violence so far this year, including the three 9-year-olds in Nashville.2
As my heart dies, my anger grows at cowards and profiteers who stand in the way of protecting children from gun violence. We all can, and must, do more.

Nicole Hockley, co-founder and CEO of Sandy Hook Promise and mother of Dylan, who was killed in the Sandy Hook Elementary School tragedy.
Real change in how America approaches gun reform and school safety isn't possible without caring people like you. As long as there are people like you standing with us to end gun violence, there is hope. Here are some facts about the mass shooting at Covenant School in Nashville, Tennessee and how you can help. This is a breaking story, so please check back as more facts emerge.
Who Are the Victims of the Covenant School Shooting in Nashville, Tennessee?
We mourn with the loved ones of those murdered in this tragic mass shooting. Three young children and three caring adults were taken by gun violence. We know the years of unspeakable pain their families and community will face as they cope with the horror of what happened in Nashville. Please join us in honoring the memory of those killed at the Covenant School.3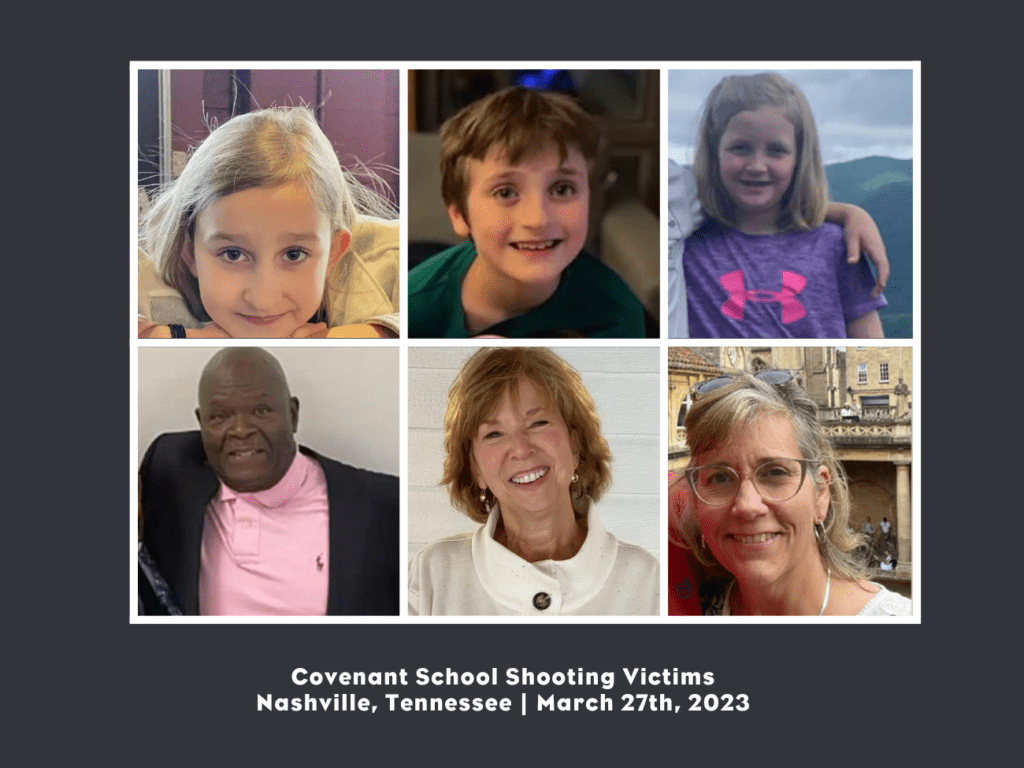 Evelyn Dieckhaus, age 9, was a student at the elementary school.
William Kinney, age 9, was an elementary school student at the Covenant School.
Hallie Scruggs, age 9, was also a student and the daughter of the pastor at the Covenant Presbyterian Church.
Mike Hill, age 61, was a custodian at the school. He helped make sure children had a clean, healthy place to learn and grow.
Katherine Koonce, age 60, was the head of the Covenant School. She was beloved by students and families in their school community.
Cynthia Peak, age 61, known as Cindy, was a substitute teacher at the school on the fatal day.
What Happened at the Shooting at Covenant School?
The 28-year-old suspect was a former student at Covenant School.
News outlets report that the alleged shooter used an assault-style rifle4, sometimes referred to as an AR-15 assault weapon. The shooter at Sandy Hook Elementary school used a similar military-style weapon.
The alleged shooter was shot and killed by police officers at the scene.
Police also reported that the alleged shooter had a map of the school and a plan.5 This is consistent with the warning signs taught in our Know the Signs gun violence prevention programs.
Where Did the Nashville School Shooting Happen?
The massacre happened at Covenant School in Nashville, Tennessee which teaches approximately 200 preschool through sixth grade students.
The alleged shooter shot through locked doors to gain entry to the building.
According to police6, the suspect was on the second floor of the school and was firing at police cars. Officers then found the suspect. While the alleged shooter reloaded, they discharged their weapons and fired at the suspect .
How You Can Help
Our hearts ache for those families and the Covenant School and surrounding Nashville communities. Our hearts ache because we know gun violence is preventable.
Now more than ever, remember that supporters, activists, and volunteers are essential to helping to prevent gun violence. While tragedies like the Covenant School shooting can be heartbreaking, please know that gun violence prevention advocacy and action saves lives.
Together, in service, we work relentlessly to prevent these types of tragedies. You make a difference. Join us.