The Sandy Hook Promise National Youth Advisory Board (YAB) consists of 9 high school students who are SAVE Promise Club members from across the country. On average, these youth leaders contribute over 300 service hours as members of the prestigious YAB and work with their local Clubs on events, projects, and presentations. They encourage a culture of inclusivity and empathy through Start With Hello, and educate other youth on the warning signs of violence and how to Say Something to a trusted adult to get help. These extraordinary changemakers are leading the way in preventing violence and creating safer schools and communities!
Meet the 2023-2024 YAB: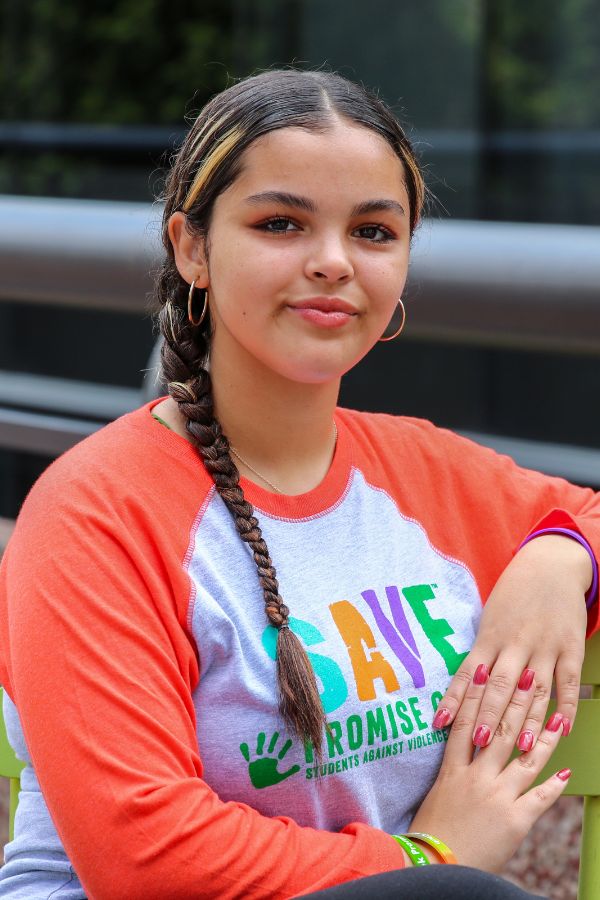 Arianna
Massachusetts
"I hope to be a part of a greater change and use my position to motivate youth throughout the country to use their voice and save lives."
This is Arianna's third year in a SAVE Promise Club and second year on the Youth Advisory Board. Arianna is excited about the impact her SAVE Promise Club has made. The SAVE Promise Club has brought a new sense of security and unity within the community. Students who felt scared for their safety have told her directly that they feel safer knowing there is a program they can honestly rely on. Before the SAVE Promise Club, members of the school had no place to report a threat, something that makes them uncomfortable, or bullying. Now they do, along with connections and a completely new idea of safety and well-being within the school. After weekly activities throughout the year, the school came together with the community by spreading the word of the club and organizing Say Something Week, Start With Hello Week and other events!
Arianna's advisor, Ms. Hughes, shared "Arianna has been a passionate advocate for school safety by leading the Junior High club, helping to establish the high school club, and serving on the Youth Advisory Board. Emerging maturity means that in addition to fire and perseverance, she now brings improving communication and cooperative skills to the table. She has a strong desire to positively contribute to her environment and lift the club, school, community, and herself."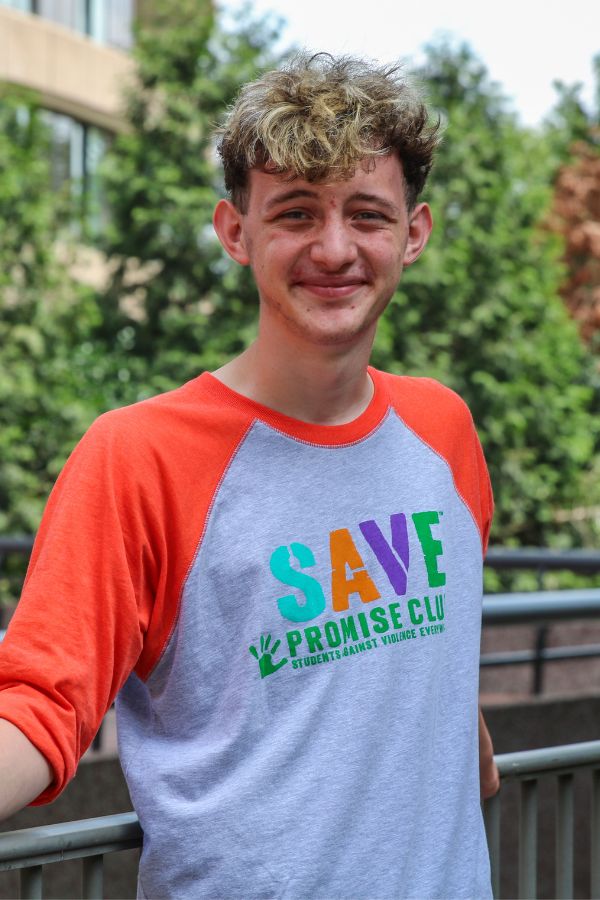 Brody
Ohio
"I want to make a safe place where everyone can come. I want schools to be a safe place where you worry about a science fair project, not whether you are going to make it through the day or not."
This is Brody's third year in a SAVE Promise Club and second year on the Youth Advisory Board. While on the Board, Brody's big picture goal is to end violence. He believes being a part of a SAVE Promise Club is the first step.
Brody's Advisor, Mr. VonKennell, shared "Brody embodies Start With Hello and Say Something at Fort Frye. I have seen him call out bullies during and after school. He says, "Stop that," and then names the behavior that should stop. Some of our most notorious bullies have been cowed by Brody."
Brody is active in his high school marching band, winter guard, and musical theater. He enjoys attending church and Educational Talent Search.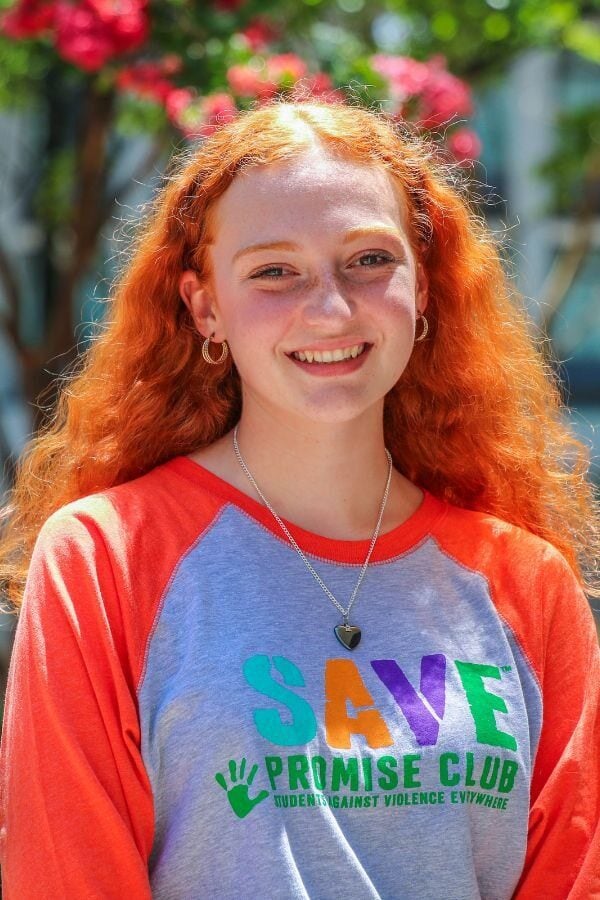 Daelyn
North Carolina
"I hope to be able to continue to do some of the amazing activities we did like making a positivity tree or the spirit weeks. I am honored to serve on this platform again and I know this will help lead the way for major changes. If the work done helps one kid, then it was all worth it."
Daelyn has been a member of her SAVE Promise Club for three years and this is her second year on the Youth Advisory Board. Daelyn's passion is mental health. She has spent most of her high
school career finding out how much she loves to help others with their mental health and hopes to one day become a psychologist.
Ms. Byrd shared that "Daelyn is an awesome advocate for the SAVE Promise Club here at our school and works very hard to spread information and plans activities that showcase her true belief of the standards of SAVE Promise Clubs and Sandy Hook Promise. She is an amazing student that has a smile on her face and greets everyone with "Hello Beautiful People!". She has recruited so many to our club that we have grown from 20 last year to 95 this year."
Dae is part of her county's JR leadership program and serves as the district's student mental health coordinator, meaning that she represents mental health advocacy in her district. She is in many clubs including Beta club, NSHSS, Key Club, Bible club, and History Club. She also values her church activities.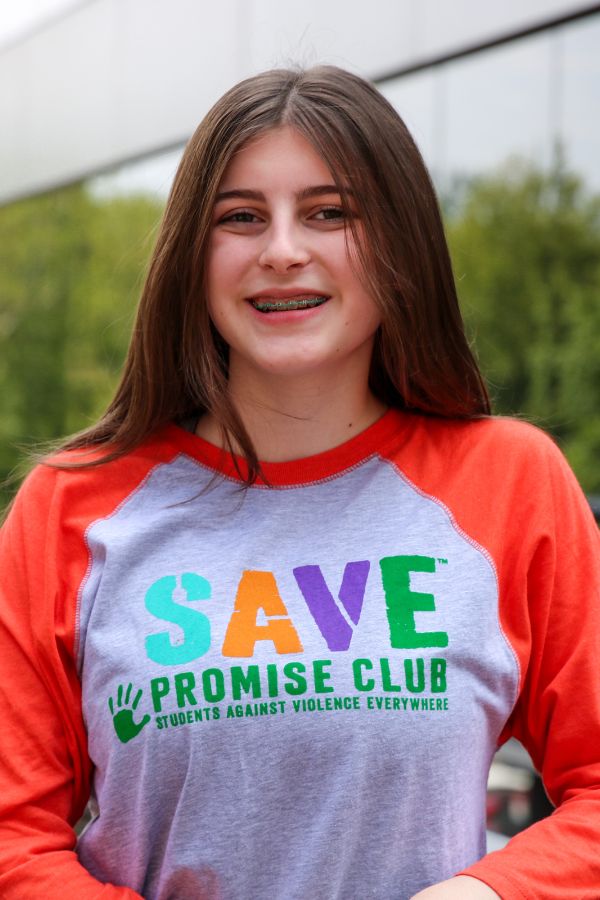 Emma
Connecticut
"I became a member of the SAVE Promise Club at my school because I wanted to learn more about being a better advocate and how to help the people in my community. In the past, I have helped friends who have struggled with the thought of self-harm. I wanted to be able to join the SAVE Promise Club to further my knowledge and be able to teach people how to recognize the warning signs, and what to do if they do notice them. Rather than feeling unprepared, I wanted to have the tools to help the people close to me and within my community."
This is Emma's second year in a SAVE Promise Club and her first year on the National Youth Advisory Board. She joined her school's SAVE Promise Club as soon as she entered high school, hoping to
make a difference in her community. The majority of Emma's time is spent at her school's SAVE Promise Club planning various activities for students and faculty. She hopes to raise more awareness of the importance of mental health in the community. She feels that there is a stigma around talking about mental health issues and is working to reduce that in her school community. Accomplishments she is most proud of within the Club include helping to organize Say Something Week in her school as well as planning a Start With Hello Week for next year. Emma wants to include more activities in her community to raise awareness of violence throughout our country and ways to reduce it.
Her advisor, Erica Browne, shared that "Emma is focused on the importance of the Sandy Hook Promise and works well both independently and with others to promote that mission."
Emma is part of a few different clubs and enjoys being on her school's robotics, fencing, and volleyball teams.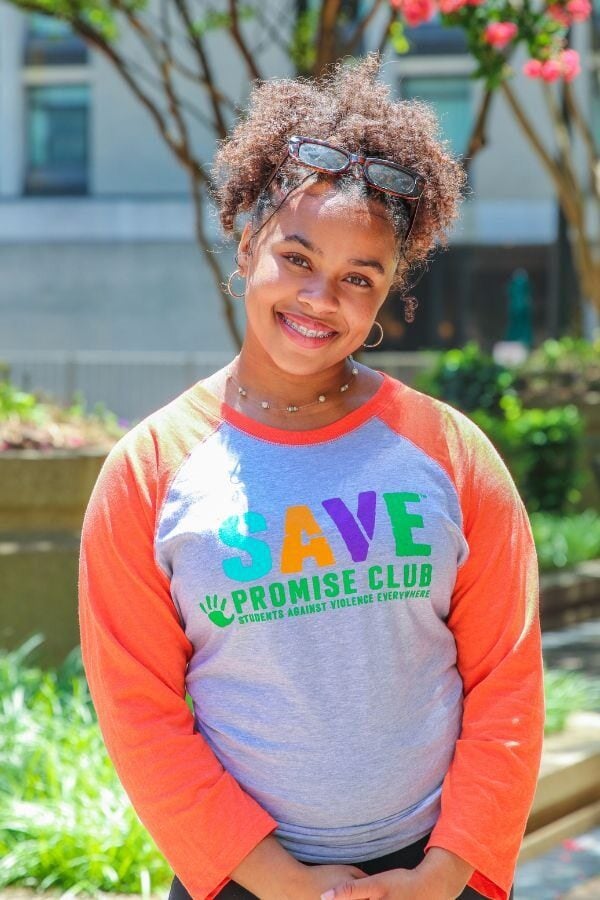 Jade
California
"As a member of the Youth Advisory Board, I wanted to spread awareness. Not just about gun violence, but about any cause that was potentially harming people. I wanted to help others in any way possible. When I discovered SAVE Promise Clubs I was inspired and passionate about it. I want people to know how to identify the signs of others who may do harm to others or themselves. Because school should feel like a safe place for students, not a place of fear."
This is Jade's second year in a SAVE Promise Club and second year on the Youth Advisory Board. Her club has made a positive difference in the community by practicing saying hello, and teaching what they have learned from the SAVE Promise Club to others around them. The Club has been trying to expand Sandy Hook Promise to the local middle school. They want to do this because they've had their fair share of school shooting threats and are still the only club on campus, among hundreds, that specifically focus on preventing violence in schools. We've started to have conversations that our school has never had before that we need to address more often.
Jade's advisor, Patty Mullins, shared that "Jade is a very promising young activist that thrives in public speaking. She has tremendous potential as a leader, and we are building a mutual respect for one another as we learn to work with each other in getting the SAVE message out!"
Jade is active in her school's leadership program and enjoys cheer and gymnastics.
Jon
Pennsylvania
"I hope to create change and create a more peaceful world. We can promote Support over Sadness, Affirmation over Anxiety, Validation over Violence, Equality over Evil. SAVE."
This is Jon's first year on the Youth Advisory Board, and his third year in a SAVE Promise Club. Jon tries to prevent violence by providing levity in times of struggle and participating in events to spread the message that the SAVE Promise Club promotes. He encourages youth to prevent violence by communicating and spreading positivity. Jon believes that SAVE has expanded his knowledge about the signs given by students struggling with their mental health and has revealed how important talking about mental health really is. He hopes to make a positive change in
the world and believes that the National Youth Advisory Board can help him accomplish this task.
Jon's advisor, Andrea Borys, shared that "Jon is a compassionate and charismatic student that makes everyone feel welcome and comfortable. He uses humor to relate and deescalate situations. Jon has been very active in the club, and at times was the only freshman or the only male to attend meetings or activities off campus. He is devoted to the SAVE Promise Club."
Jon is a member of several clubs including the National Honor Society, Future Business Leaders of America, and Peer Leadership.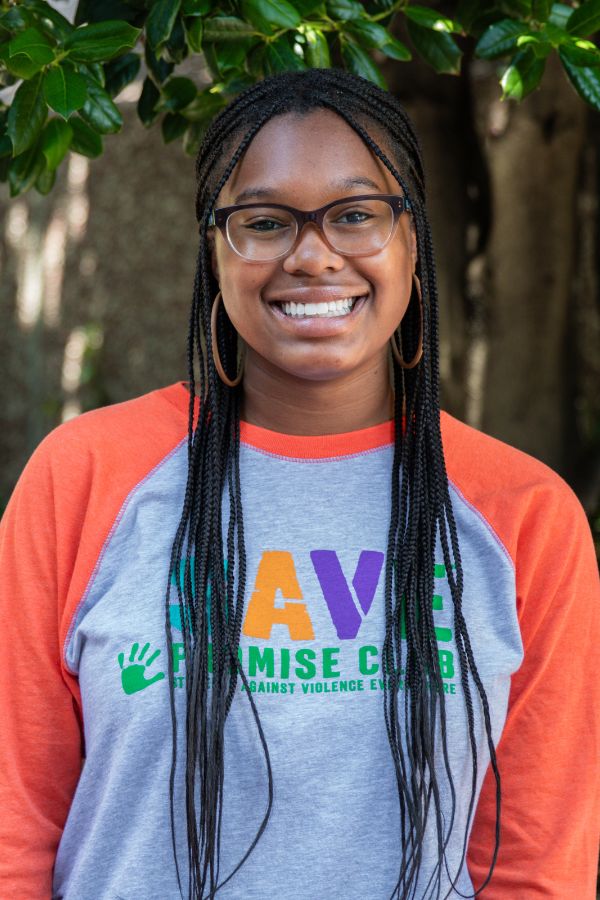 Jordyne
North Carolina
"SAVE Promise Club has honestly opened my eyes to many different perspectives. Through my involvement with my SAVE Promise Club, I have gained a greater sense of how important the Say Something Anonymous Reporting System is. I have seen it work and have been shown how important it is for a school to have it in place. It has also shown me how far one act of kindness can go. While being involved and participating in different activities such as Hello-Grams and Trusted-Adult Grams, I can see how someone's day is changed by someone sending them one. I have seen people's faces light up and have seen them smile. It has shown me how important being kind is, and how it can change someone's whole day."
This is Jordyne's fourth year in a SAVE Promise Club and her third year serving on the National Youth Advisory Board. She is co-president of her SAVE Promise Club. Her club has done many activities this past year, such as: A 14 Days of Action Launch Meeting, Hello-Grams for Start with Hello Week, and many videos from her SAVE Promise Club on the announcements. Jordyne hopes to be able to accomplish change during her last year on the Board and influence the minds of youth and people around the world to realize that action needs to be taken against gun violence.
Jordyne's advisor, Christina Sell, shared "As a third year YAB, Jordyne continues to be an advocate for youth violence prevention nationally and in our community. She contributes greatly to our school community and is a valuable leader in our club as president bringing us new ideas each year."
Jordyne is also involved with other clubs, such as FFA, Mu Alpha Theta (Math Society), Beta Club, and National Honor Society.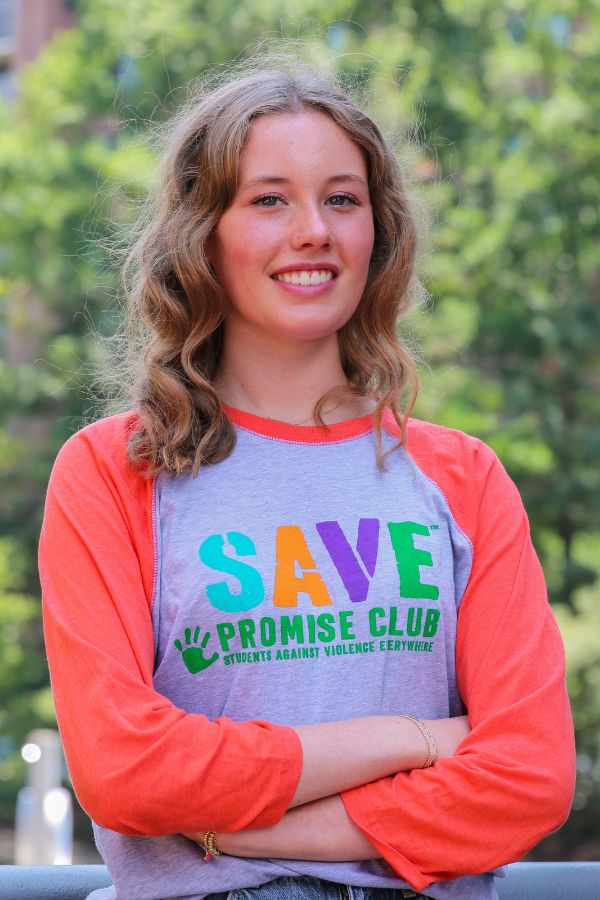 Kylie
Wisconsin
"I have stepped into the world of advocacy and have continuously used my voice to fight for change and have enjoyed every second of it! Especially building connections through Start With Hello Week and implementing Say Something Week to create a safer school with a culture of inclusivity and kindness."
This is Kylie's fourth year in a SAVE Promise Club, second year of being her Club's president, and her second year on the Youth Advisory Board. Kylie can't wait to see what the future holds for this year on the YAB and looks forward to continuing to make change and advocating for safer schools and communities. She hopes to learn from new perspectives, brainstorm ways to make change, and elevate her voice as well as other youth voices.
Marilyn Toshner, Kylie's advisor, shares "Kylie has a passion for making a positive change in the world." SAVE Promise Club has given Kylie passion and drive to make a difference and fight for change, especially as a youth. As she goes through her journey with SAVE and Sandy Hook Promise, she has found a new voice for herself and others: a voice that advocates for others, speaks up about issues within the community and country, leads others, and so much more. Her Club's Start With Hello week activities: like giving out free lemonade with positive messages, making a pledge banner for National Safe Schools Week, giving out trusted adult certificates to show appreciation to staff during Say Something Week, etc., are not only activities that have shown Kylie the power of spreading love and kindness, but have also given her the platform to speak up and make a difference. Being given such an amazing platform has made Kylie realize her love for being a changemaker and has inspired her to even pursue a career in policy so she can continue advocacy work and make changes within our nation."
Kylie is a member of Student Government and is a Student School Board Representative for the 2023-2024 school year. Outside of school she works with different organizations and advocates for social justice issues, common sense gun laws, mental health, equality, and more. She is an active participant in the gun violence prevention movement and has spoken on youth panels,
attended national and local conferences, created social media campaigns, and has lobbied multiple times for safer gun laws.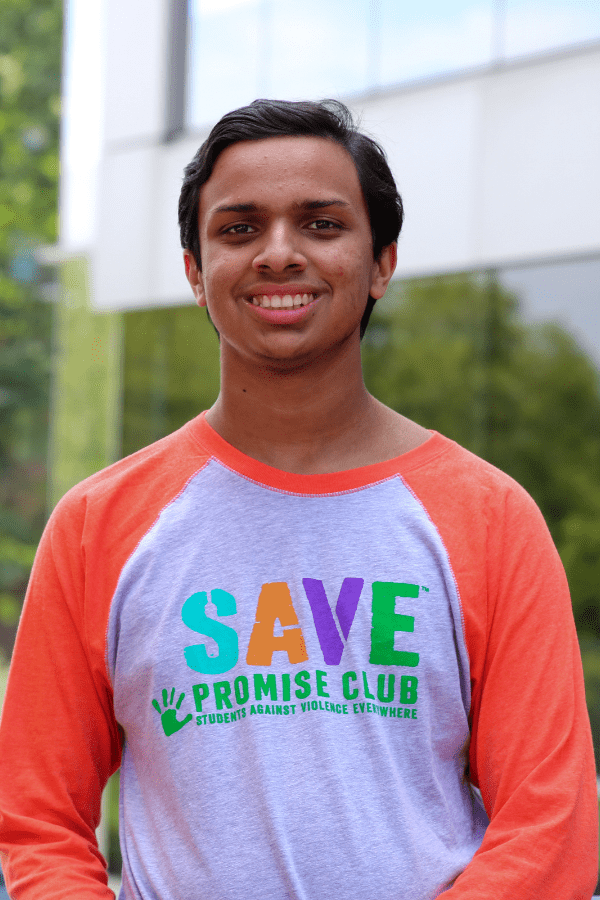 Noveen
Florida
"My primary goal is to promote safety and prevent violence in schools throughout the United States. Many students are unaware of the violence that occurs in other schools and take their own safety for granted. I want to ensure that all students in the United States understand that safety cannot be taken for granted and that violence can happen at any school."
Noveen has been serving actively for the past three years as a part of his school's SAVE Promise Club, and currently serves as Co-President of his Club. This is his second year serving on the Youth Advisory Board and he continues to bring awareness to the issue of school violence and empower young people across the country to Say Something when they see warning signs. Noveen believes that spreading kindness and building an inclusive school culture allows their SAVE Promise Club to increase awareness and practice. From Club Rush until their final program participating in National Youth Violence Prevention Week, students are engaged in conversations, write nice gestures, and exhibit being more caring. Another way Sandy Hook Promise and the SAVE Promise Club at Cutler Bay Senior High make a positive difference in the community is continuing stakeholder involvement. For example, Noveen participated in a Town Hall on school safety which allowed him to amplify his voice.
Dr. West, Noveen's advisor shared "Noveen is dedicated to building a school culture which is welcoming to students of diverse backgrounds and supported by a trusted adult. For the past three years, he served as an advocate for school safety and has been recognized as a scholarly writer. His advocacy is felt school-wide through the implementation of SAVE Promise Club activities which includes a Start With Hello video saying hello in different languages by students and National Youth Violence Prevention Week announcing the know the signs Say Something steps. Upon the completion of his Freshman year, Noveen was recognized as a top writer by the Youth Crime Watch of Miami-Dade for his essay on making schools a safer place for all students to learn."
In addition, Noveen is a part of a mental health awareness club at his school, an active member of the English Honor Society, and Mu Alpha Theta (Math Society). Noveen also does vocals in his performing arts club at his school.
Get to know our School Advisory Committee, the Adult Advisors who support the Youth Advisory Board Members their community every day.
SAVE Promise Club creates lasting change that leads to safer schools and communities. Join your local Club or start one today!